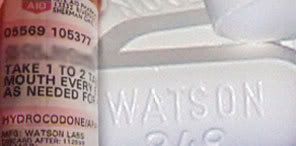 Don't make the same mistake as one St. Augustine Beach woman who reported that while she was out of her residence during the day yesterday, someone gained entry into her home stealing her perscription medications including Xanax, Percocet and Oxycodone — along with about $350.00 in cash.
The victim stated that she had spoken openly with other people about the medications she was taking. These particular medications are available only by a perscription and can be dangerous when combined with each other or if taken when drinking alcoholic beverages.
Xanax is a popular anti-anxiety medication and Percocet and Oxycodone are powerful pain killers; making them frequent targets of perscription drug abuse.
According to Deputy Kyle Braig's report filed last night, the victim left her residence sometime between 7:45 and 8:30 yesterday morning. Deputy Braig observed an opened window with a small wooden ledge that may have been the point of entry. When the victim returned home, she discovered that her pills and cash were gone.
The investigation is continuing.