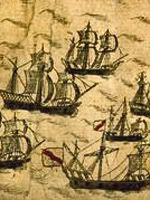 Maritime archaeologist and diver Brendan Burke reported to Historic City News that tonight, as part of the Discover First America: Legacies of La Florida series, he and Pat Croce will present "Pirates! Fact and Fiction".
The lecture series is free to the public.
Brendan's presentation, "Blood in the Inlet: St. Augustine and its History with Pirates", will dissect a 1764 shipwreck, a 1668 raid, and a 1589 map to uncover St. Augustine's history of conflict with Pirates.
Adding their own dash will be local pirate re-enactor Brian Bowman and his crew, who recreate the experiences from Searle's Raid in 1668 in St. Augustine.
Mr. Croce will talk about the Golden Age of Piracy, exemplified by the Pirate Soul Museum he founded in Key West. Croce is an internationally known pirate specialist and once partner with director Steven Spielberg for the motion picture "Blackbeard".
These two presentations will focus on our view of the past as filtered through the various lenses of make-believe, historical romanticizing, and historical documentation.
When: Tonight, December 9th, 7:00 to 9:00 pm
Where: Flagler Auditorium (west of the Lightner Museum), St. Augustine
Facebook Comments