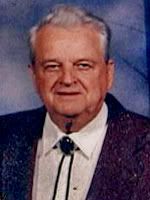 Yesterday, at his home in Powdersville, SC, Historic City News has learned that former St. Augustine resident and retired St. Johns County Deputy Sheriff Guy Franklin Rexroad was found dead by his daughter, Kathy, when she went to check up on him.
Anderson County deputy coroner Don McCown said that it appears Rexroad died at his house on Old Pendleton Road after walking out of his bedroom and stepping into a glass flower vase — "severing a couple of arteries in his leg, causing him to bleed to death."
After serving in the Marine Corps during World War II, from January 1st 1959 until November 5th 1971, Rexroad served as a deputy under Sheriff L. O. Davis and Sheriff Dudley W. Garrett, Jr. Last week, Rexroad turned 86 years-old.
"He's met Martin Luther King (Jr.), he's had a number of adventures down there in St. Augustine in northeast Florida driving a patrol car," Rexroad's former son-in-law Robert Snipes said. "He actually saw some of the evolution of the country as a deputy sheriff."
The deputy coroner said at the scene that Kathy would stop by to check on her father "just about every day", but she wasn't able to make it Monday. "She called Monday," McCown said, "but figured her father was doing what he had been doing every day — working outside in his garden, moving rocks."
As he became older, Rexroad stayed active. He would drive to the nursing home to see his wife and to his favorite fast-food restaurant, Zaxby's, according to local news reports.
Family friend, Bobby Garren, told reporters that Rexroad maintained "a fierce independence" and oftentimes didn't feel comfortable having people come to help. "He liked his privacy … He liked doing his yard work. You couldn't tell him not to do it", Garren was reported to say.
Evidence showed that he had tried to doctor his own wound in the bathroom and then lay down on his couch rather than calling for medical assistance. The coroner's office is reporting that this is a "tragic accident" and no foul-play is involved. "It appears he died sometime Monday", McCown said.
Kathy moved from St. Augustine some 20 years ago in order to be closer to her father in South Carolina.
Three weeks ago, Martha, who was Rexroad's wife for 50-plus years, was admitted to a nursing home. Rexroad had begun to suffer from Alzheimer's, the same condition for which his 89-year-old wife, Martha, had been hospitalized.
In addition to his wife, Martha, Guy Rexroad is survived by his daughter, Kathy, and three grandsons.
Facebook Comments