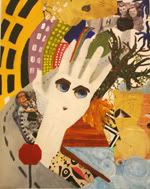 Fine art and graphic design students will have a chance to show visitors their artistic progress at the Florida School of the Arts "Work in Progress" exhibition, according to an announcement received by Historic City News today.
The gallery show will open with a reception on Monday, December 7 at 7 p.m. and will run through December 15 in the FloArts main gallery located on the Palatka campus of St. Johns River Community College.
Large images of students' video work will also be projected on the outside walls of the school's buildings during the reception.
Gallery hours are Monday through Friday, from 8:30 a.m. to 4:30 p.m. The event is free and open to the public.
FloArts fine art instructor and gallery director Michael Burban said the exhibition will be an interdisciplinary show of current works created by first and second-year students this semester and selected for display by Florida School of the Arts faculty. "The exhibition will display highly unique works of art from the students," said Burban, adding that the works will demonstrate the students' progress in understanding the technical, as well as the conceptual, aspects of the art-making process.
Students exhibiting works in this show include Breanna Aguilar, Layce Boswell, Cody Cappabianca, Carly Ivey, Bryanna Keseloff, Ashley Maetozo, Marie Montgomery, Desire Scholz and Kaitlin Weber.
The fine arts program is intended to train the student artist to fully comprehend, use and manipulate the materials, techniques and procedures of the visual arts through drawing, painting and printmaking.
For more information on FloArts, call (386) 312-4300 or visit online at FLOARTS.org