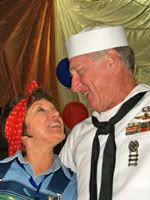 "Rosie the Riveter" and her Sailor-boy smile for Historic City News at the St. Augustine Airport Pilots Association 2nd annual WWII "Hangar Dance" held Saturday night, November 21st.
The dance honors veterans of all wars and has as its theme, WWII.
About 150 people, most dressed in 1940's attire and military service uniforms of both the American and Allied forces, danced to a 21 piece "swing" band, which magically put everyone present (and accounted for) "In The Mood".
The C-47 "Tico Belle." was the highlight of this years gathering, restored to her original glory and complete with her Normandy invasion identification stripes. 65 years ago on June 6th 1944, in the pre-dawn darkness, the Tico Belle made her way from England to the beaches of Normandy, along with hundreds of other aircraft, as part of the largest aerial invasion the world has ever seen.
On that historic day, she made two additional round trips carrying paratroopers to jump behind enemy lines. She later took part in the WWII battles of Cherbourg, Arnhern, and Bastogne. During the Cold War she flew supplies in the Berlin Airlift.
As the band played "Don't Stand Under the Apple Tree", the C-47 "Tico Belle" was a nostalgic sight and seemed to be right at home with the GI's, sailors, and Victory Girls in attendance.
Photo credits: © 2009 Historic City News contributing photographer John Bacon
Facebook Comments