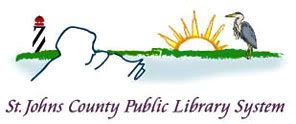 As Thanksgiving approaches this week, the St. Johns County Public Library System is grateful for its loyal patrons and will be thanking them on Patron Appreciation Day tomorrow, November 24.
Library administration and staff wish to thank the more than 94,000 library card holders for their continued support and patronage. During 2009, more than 1.1 million people visited the St. Johns County Public Library System.
For Patron Appreciation Day, the Friends of the Library at each branch and the bookmobiles will provide free cookies to patrons, along with a big message of appreciation for their support.
"The people of St. Johns County played an important role during the recent budget process," said Library Director Debra Rhodes Gibson, "and the final County budget included funding to maintain current library hours. We are thankful for the active participation of our patrons, incredible community support and ultimate decision by the County Commission to fully support libraries."
The Library System also appreciates patron support during the current Food for Fines program, which allows patrons and residents to clear overdue fines while providing food for those in need. The program allows someone to bring one non-perishable food item in exchange for each $1 in overdue fines. Even those who do not have fines are encouraged to contribute items to the food drive, which will be donated to the St. Johns Food Bank for distribution within the community. Food is being collected at each library location through December 18.
The Library continues to be an important community asset, providing free books, videos, music, magazines, newspapers, databases, programs, public computers, internet access and more to all residents of St. Johns County.
Facebook Comments