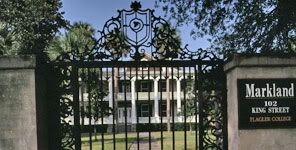 A former childhood resident of Markland House announced to Historic City News that, for the first time ever, Flagler's Legacy will offer special holiday tours of the historic Flagler era mansion.
This property shares a rich history with both the Ponce de Leon Hotel and Flagler College. It was home to Henry Flagler's personal physician during the Ponce de Leon Hotel's early days and later to State Rep. Bill Proctor when he became president of Flagler College.
Proctor's daughter, Priscilla, lived in Markland House as a child and now works in the retrofitted building in the College Relations Office. She says Easter egg hunts and birthday parties were memorable because they took place in the expansive yard. But she had adventures inside the house as well.
"I think it's interesting that although my brother and I knew not too many people lived in a house like that, we adjusted pretty quickly and never took it for granted, but, instead, utilized its uniqueness," she said. "I remember playing hide and seek, and we would play this game to see who had the guts to walk the farthest up the stairs leading to the attic."
Today Markland House is primarily used for special events at the college, as well as some faculty and staff offices. The downstairs level retains much of its original look, particularly the dining room and library.
During their tour, visitors will glimpse some of the original grandeur of this historic home as well as learn some background on the residence and its importance in St. Augustine's rich history.
"We get requests all the time from people who want to see the inside of Markland House," said Flagler's Legacy Director Samantha Palmer. "They want to see what's behind the gates. We are so excited to finally offer this tour to the St. Augustine community."
Markland House is located at 102 King Street. Tour dates are scheduled to be December 19th and January 2nd; once at 11:00 a.m. and once at 1:00 p.m.
Admission for the tours is just $15 — but each tour is limited to 25 people and reservations are required. Visitors can add the traditional Flagler's Legacy tour of the former Ponce de Leon Hotel for just $7 more.
To make reservations for the Markland House tour, call Flagler's Legacy at (904) 823-3378.
Facebook Comments