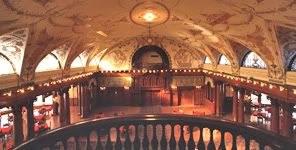 The President's Society of Flagler College reported to Historic City News that they will once again host Flagler College's Scholarship Ball this New Year's Eve.
Set in a National Historic Landmark – the former Ponce de Leon Hotel's Dining Hall, ringed by Tiffany glass and towering murals – it's a taste of the time when the historic building hosted names like Teddy Roosevelt, Will Rogers and John D. Rockefeller.
But the evening is about more than just the elegant setting; proceeds benefit the Flagler College Scholarship Fund. Last year's ball raised more than $14,000 for student scholarships.
Hosted by the President's Society of Flagler College, 30 percent of the cost is a tax-deductible donation that benefits the Flagler College Scholarship Fund.
The ball begins Dec. 31 at 8 p.m. and concludes at 1 a.m. Patrons can dance the night away to the music provided by the Soul Operation Band and the Don Durkee Quartet.
This year's theme will be "Southern Gourmet." Guests will be able to enjoy delightful tastes of the South including a southern grits bar, a low-country boil, a cheeseboard that highlights regional cheeses from Sweet Grass Dairy – one of the country's premier artisan cheese producers – and fried green tomatoes.
The ticket price also includes an open bar, heavy hors d'oeuvres including a bountiful seafood display, dinner and dessert buffets and an early morning breakfast buffet. Guests are also treated to a champagne toast and balloon drop at midnight.
Cost is $365.00 per couple and black tie is reguired. For more information call (904) 819-6282 or go to www.flagler.edu/newyearsball
Facebook Comments