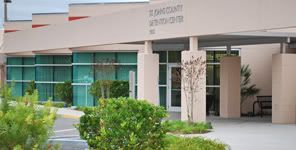 They gather monthly in a conference room at the County Health Center, reviewing progress made and searching for better ways to lower the hurdles faced by ex-offenders leaving jail.
This month's Re-entry Team meeting drew 16 representatives from a variety of community services.
Mary Lea Zamora and Aaron Robinson have been teaching a ten-week parent education program in the St. Johns County's jail for several years.
Zamora is a prevention support specialist with the St. Johns County Health and Human Services Community Resource Center and Aaron works in Putnam County's public housing program.
"Our clients want to take a different path in their lives," Zamora says, "but they are confronted with so many issues upon exiting the jail that the difficulties can be insurmountable."
Their team has grown to include a faith-based career development specialist, a drop-in center volunteer, a parenting instructor, and representatives of EPIC and the St. Johns Sheriff's Office.
Sheriff's Grant Administrator Linda Morrow has secured grants to establish the re-entry program and a program director and employment specialist could be in its future.
"We know all these people are growing up into, or coming back to, our community with both needs to be met and gifts to share," Zamora says. "How can we all work together to ease the passage?"
Contact Zamora at 904-209-6103 to sit in on a session or contribute ideas on the re-entry effort.
Photo credit: © 2009 Historic City News photographer Kerry McGuire
Facebook Comments