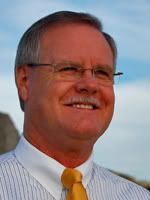 December 6, 2009 Alan Kelso announced to Historic City News that he was making his first run at a political office by registering his bid for the District 2 seat on the St. Johns County Board of County Commissioners — as of December 31st he had changed his mind.
After his New Years Eve filing with the Florida Division of Elections, Kelso now has the District 20 seat in the Florida House of Representatives in his sights.
54 year-old Kelso was born in Beech Grove, IN and is a '74 Beech Grove Senior High School graduate. Kelso went on to attend the '78 class of Southeastern University in Lakeland, FL.
Kelso is single, his political views are Conservative and he is a Christian.
A review of his "issues" and "biographical sketch" on Facebook match the ones he provided us for the local election campaign as a county commissioner.
You can review Kelso's credentials and positions at http://www.facebook.com/pages/Saint-Augustine-FL/Elect-Alan-Kelso-Florida-State-Representative-District-20/242791338699
Kelso has promised the debut of his own website, http://alankelso.com/ and says "We are currently working on our website presence. We expect to go live mid-January, 2010."
In an earlier interview, Kelso told Historic City News that he was a host to the Pro-Family Rally at the World Golf Convention Center, with the goal of bringing the Marriage Amendment to fruition in Florida.
Kelso is one of several who worked with leader Ken Asplund; helping launch the Christian Professional Resources organization in St. Johns County.
Kelso says he is proud to have worked "in various communities in Indiana and Florida as a senior pastor of several congregations".
"Conservatives know that government that governs least governs best", Kelso wrote on his wall. "Conservatives know that as government expands freedom contracts." Kelso's final axiom as he went public with the Facebook page late today, "Conservatives know that government should never do for a man what he can and should do for himself."
In this race for the District 20 seat in the Florida House of Representatives, Kelso will face Republican incumbent William L. Proctor — who filed with the Florida Division of Elections for re-election on May 19, 2009.
From the race Kelso withdrew, the county commissioner who currently holds the seat, Ron Sanchez, was elected as a Republican in 2006, and says he is fairly sure he will run for re-election. However, a recent news article quotes Sanchez as saying, "We'll just have to see what happens". According to the article, Sanchez said. "I'm not going to let that become a priority."
Republicans Randy Brunson and Ben Adams have also filed to run for the District 2 seat. Florida is a "closed primary" state, so Republicans, county wide, will vote in the Primary Election to be held on August 24, 2010.
Whoever wins in the District 2 Republican Primary, and whoever wins in the Democratic Primary, should they run, will face Merrill Roland, who is registered as an independent candidate, in the General Election on November 2nd.
Facebook Comments