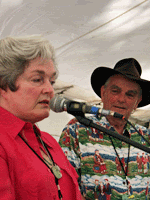 Jane Sims of Tale Tellers of St. Augustine is introducing Historic City News readers to "The Heritage Series," a brand new series of storytelling performances at the San Marco Theatre.
The Tale Tellers of St. Augustine was founded 17 years ago and is a non-profit organization of cultural and educational orientation; devoted to promoting the art and perpetuating the tradition of storytelling.
The first offering, "Legends and Lore of the St. Johns River," will be presented Thursday, February 25, 2010, beginning at 7:30 PM.
The stories include American naturalist William Bartram, the Life and Times of Putnam County entrepreneur Hubbard Hart, Mary Emily Boyd — the woman who saved Palatka from the Yankees, and the Civil War scuttling of the eponymous racing yacht "America."
The program was initially developed, in part, under the auspices of the Florida Humanities Council and features people and events along the St. Johns River.
San Marco Theatre is located at 28 San Marco Avenue across from Ripley's Believe-It-Or-Not Museum. Free off-street parking is available in the museum lot.
General Admission at the door is $8.00 per person.
The guild is dedicated to community enrichment and promotes awareness of storytelling by sponsoring its members in performance. Guests and new members are invited to attend the monthly meetings; which are held at 7:00 p.m. on the second Monday each month throughout the year, except in July.
For more information call 904-471-0179 or 386-446-4909.
Facebook Comments