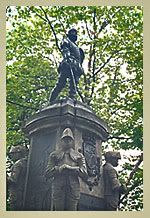 Historic City News readers are invited to join in the 16th Century Noche de Gala Celebration honoring the founder of our nation's oldest city.
The celebration begins on Saturday, February 27th at 5:00 p.m. at the city gates on the north end of St. George Street.
A grand and exciting procession through the city will announce the arrival of don Pedro Menéndez de Avilés, Adelantado of Florida, and his colorful entourage. From the city gates to the Lightner Museum, Menéndez will lead the way engaging the town folks as he inspects his colony and prepares to enjoy his birthday celebration, Noche de Gala.
The arriving procession will find the Lightner Museum and grounds immersed in 16th century entertainment, actors, dancers, musicians, and colonial artisans, all anxious to greet Menéndez and wish him well. Don't be surprised if Menéndez joins in the playful atmosphere.
The exquisite Lightner Museum Grand Ballroom is the setting for cocktails at 6:30 p.m. and dinner on the Mezzanine at 8:00 p.m. Entertainment features Menéndez, his entourage, strolling musicians, heralding horns, magicians, and swordsmen. Anything can happen. Following dinner, revelers dance to the contemporary sounds of The Company band, and the evening culminates with national anthems of Spain and the United States and shouts of "Viva Avilés, Viva St. Augustine!"
This year the Gala is proud to present Chaz Mena portraying Menéndez. An award-winning actor of stage, film and television, Mena has conducted research on Menéndez, consequently, Mena's presentation is clear and captivating.
Don't expect Mena to present Menéndez all by himself. He will need your help; he will ask questions, and bellow answers. This Menéndez wants to know your opinion of the New World in the first settlement of this new continent, La Florida.
Menéndez was not a quiet man; we find him robust and exuberant, fond of music and a fine dancer. Chaz Mena's outstanding interpretation of Menéndez will enlighten you, and you will get to know your city's founder as never before, up close and personal.
For reservations and information call Catherine Culver at 904.825.5033.
Facebook Comments