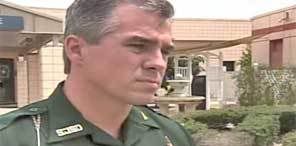 In a tragic accident that occurred this morning, the St. Johns County local news desk at Historic City News has learned that a deputy sheriff died while he was driving to work.
Sgt. Chuck Mulligan told us that Sheriff David B. Shoar is at Shands Hospital in Jacksonville with his deputy and the sheriff will have an announcement later this morning.
Historic City News asked about the deputy's identity, but we were asked "please do not release it." Mulligan told us, "He has children and we are attempting to notify the rest of his family first."
The deputy was traveling southbound on State Road 9A and was hit, head-on, by a wrong-way driver.
State Road 9A southbound was shut down at Baymeadows Road and diverted to Southside Boulevard due to the crash.
Florida Highway Patrol spokesman Lt. Bill Leeper said the deputy lived in the southside area and was struck head-on by a driver in a Honda Element going north in the southbound lanes. The deputy was driving a St. Johns County patrol car.
A medical helicopter took the deputy to Shands where he died.
The other driver went to the hospital by ambulance with serious injuries. He is in critical condition.
Both drivers had their seatbelts on, according to police reports. Investigators do not know how the driver ended up going the wrong way on 9A. Charges are pending and the investigation continues. Drug and alcohol test results are not yet available.
Facebook Comments