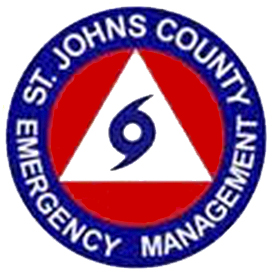 With three tropical storm systems moving west, St Johns County Emergency Management is advising all Historic City News readers to check their disaster supply kits and be sure home and business emergency plans are in place. 
The National Weather Service has issued a coastal flood advisory for St Johns and Flagler counties for this weekend.  The combination of an onshore flow and a new moon will contribute to a rise in water levels in the Intracoastal Waterway and along the Atlantic Coast, the weather service said. Additionally, swells from Florence are forecast to begin reaching local beaches today.
---
The winds and higher water levels at high tides over the weekend could lead to minor tidal flooding in low-lying areas, the Weather Service said.
The National Hurricane Center has issued its first official warning on the next tropical storm moving across the Atlantic Ocean. It's the tropical wave moving off the African coast and they're calling it "Potential Tropical Cyclone Eight".
The tropical wave is about 460 miles east-southeast of the southernmost Cabo Verde Islands, where tropical storm warnings have been posted. The system, moving west at about 10 mph with 35 mph winds, has a 90 percent chance of becoming a tropical storm in the next 48 hours, the National Hurricane Center said.
Florence has been downgraded to a Tropical Storm for now — but Hurricane Center forecasters say conditions are favorable for the storm to begin strengthening as it continues westward on a track that could eventually bring it close to the U.S. Atlantic Coast.
Florence is about 865 miles northeast of the northern Leeward Islands and has maximum sustained winds of 65 mph and is moving west at 8 mph. The 5-day track from the Hurricane Center has it becoming a major hurricane as it moves westward.
Between Florence and Potential Tropical Cyclone Eight is a third system, about 650 miles west of the Cabo Verde Islands. It's also expected to become a tropical depression or storm this weekend.
Hurricane preparation info: https://www.sjcemergencymanagement.com.
Facebook Comments