Jill Pacetti
St Augustine, FL
Note:  This letter is from a Historic City News reader who has complained to the city manager, without success, after the city stopped cutting grass on sidewalks and other public areas at her business.  A privately-owned company now contracts with the city for mowing and this reader is asking the mayor for help with recurring poor performance.
---
Friday, September 07, 2018 11:29 AM
To: Mayor Nancy Shaver
I realize you are not in control of the landscapers in the city.
I sent John Regan a photo via text back in June showing him clumps on the sidewalk.  Who can I contact besides John Regan?
I just went outside the front door of our retail store and found this mess.
Not only is this a slipping liability, it is the new "norm" for these landscapers.  They don't blow off the sidewalks.
We are lucky if they cut every 10-days.   There have been many accounts of this.
We had customers in the store, so we swept off before anyone slipped or tracked inside.  It's on North Ponce de Leon Boulevard.
Thank you for any help you can offer.
---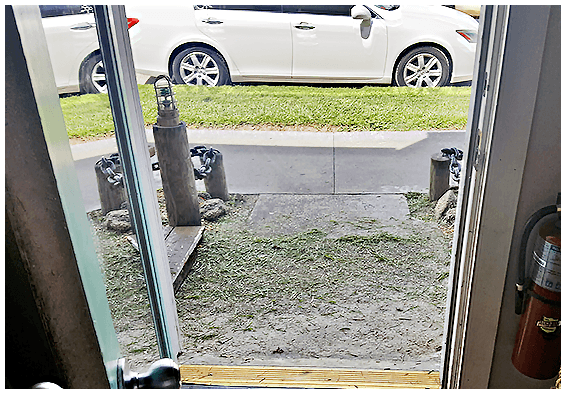 ---
Friday, September 07, 2018 12:08 PM
To: Jill Pacetti
Thanks for reaching out on this.
I am copying John Regan and Charlene Putz who heads our streets and grounds.
They can resolve this issue for you and I will forward the photo.
---
Florida has a very broad Public Records Law. Unless specifically exempt by state law, written communications to city officials or staff regarding official city business are public records available to the public and media upon request. If your email communication is related to official government business, it may therefore be subject to public disclosure.
Facebook Comments