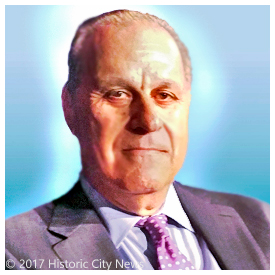 St. Johns Family Funeral Home reported that 73-year-old William Mark Korach II of St. Augustine, passed away November 7, 2018 at Flagler Hospital. He was a Historic City News reader and contributor for several years and had been active in local Republican politics.
Bill was born in Chicago, IL, the son of the late Robert and Lois Korach. He was a proud graduate of the University of Chicago Laboratory School and the University of Wisconsin becoming a member of Beta Theta Pi.
He was a retired advertising executive having worked on campaigns for Volkswagen, Paloma Picasso, Motor Trend, and Boeing. Korach helped pioneer online banking with Citibank and worked with various advertising agencies through the years.
During the Vietnam War, Korach served in the U.S. Navy. He continued in the Naval Reserve and was called up to active duty again for Desert Storm. He left the Naval Reserve as a Commander. Notably he was the heavyweight boxing champion of the Brooklyn Navy Yard.
Korach was former president of the St. Augustine Navy League. He was a member of the New York Athletic Club, the St. Augustine Rod and Gun Club, and served as the Chairman of the St. Johns County Republican Party.
His passion later in life was to improve education. With this he wrote and published Rock of the Republic. Bill was larger than life and energized everyone around him.
In addition to his parents he was preceded in death by his wife, Francesca Stencil Korach and a son, William Mark Korach III. He is survived by a son, Reed Korach, New York, NY; and a sister, Carol Ann Korach, Chicago, IL.
---
Flowers are gratefully declined and those wishing may make a contribution in his memory to the St. Augustine Navy League. A Celebration of his life will be held 11:00 a.m. tomorrow, November 17th at Turning Point Church in St Augustine.
Facebook Comments