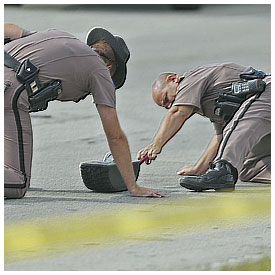 Florida Highway Patrol District Lieutenant Aaron Stephens reported to Historic City News that a truck-vs-pedestrian crash this morning at about 6:54 a.m. has left the driver of the truck uninjured but the pedestrian died at the hospital.
Saint Augustine resident 43-year-old Charles Butler, was traveling eastbound in the right lane on SR-207 just east of I-95 when a man, who was on foot, ran into the path of his 2018 red Nissan Titan pickup truck.
The pedestrian was attempting to cross from south to north across SR-207 and struck the front right side of the vehicle. He was transported to Orange Park Medical Center by air ambulance in critical condition.
The patient, 36-year-old Joseph R. Ronchetti who lived in Altamonte Springs, arrived at the hospital in critical condition. Emergency medical personnel performed life-saving techniques, however, Ronchetti succumbed to his injuries and was pronounced dead.
---
The FHP Traffic Homicide investigator assigned to this crash has informed local reporters that the investigation is continuing. Until the results of toxicology screening from the autopsy are known, Corporal Young stated that it can not be determined if alcohol was a factor in the crash. Charges in the case are pending the conclusion of the investigation.
Facebook Comments