Fucci is not likely to face trial until late next year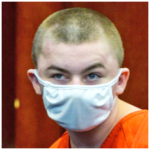 Circuit Judge Lee Smith said during a pretrial hearing at the St. Johns County Courthouse Thursday, that he hopes to set a final trial date in late 2022 for 14-year-old Aiden Fucci and his mother Crystal Smith.
Fucci stands accused of first-degree murder in the stabbing death of 13-year-old Tristyn Bailey, and his mother is accused of tampering with evidence in the case by washing blood out of her son's jeans. Bailey, a student at Patriot Oaks Academy, was found dead with 114 knife wounds to her body on May 9, 2021, in a wooded area near her home in the Durbin Crossing community.
Judge Smith granted a continuance requested by Fucci's court-appointed attorney, Joshua Mosely, asking that the case be delayed allowing his office reasonable time for the evidence to be sorted, including questions for more than 200 witnesses.
---
Fucci remains in custody in the juvenile wing of the Duval County jail while his mother remains free on $25,000 bond.  With Mosely's assurance that Fucci has been in regular contact, Smith granted the continuance until February 2, 2022.