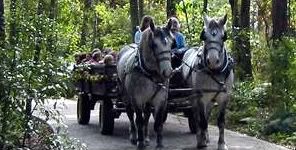 Mandarin Museum and Historical Society has invited Historic City News readers to attend the 10th annual "Winter Celebration in Mandarin."
This event draws more than 1,000 visitors from all over North Florida with old-fashioned fun for the whole family. Admission is free.
The event will be held Saturday, December 5th from 11:00 a.m. until 4:00 p.m. at the Walter Jones Historical Park located at 11964 Mandarin Road in Jacksonville.
The Winter Celebration features rides on a real railroad motorcar, hayrides, historical re-enactors, Victorian holiday crafts, children's games, gift shop, children's choirs and musical entertainment, nature programs, classic cars and a visit from Santa Claus.
Tickets for the hayrides are $1. There will also be hotdogs, s'mores and other refreshments for sale as a fundraiser to help support the museum and park.
Visitors can tour the Mandarin Museum and the 1875 farmhouse and barn and meet with city park naturalist Jean Schubert to learn about some of the wildlife found along the St. John's River.
Musical entertainment includes the Mandarin United Methodist Church Cherub and the Kings Kids and the Mandarin Presbyterian Church Children's Choir, as well as our special guest performances.
Several re-enactors will set up camp, providing visitors the opportunity to learn about life in the 1800s.
The Ladies of the Golden Teacup Society, a Victorian re-enactor group, will help children and adults to make Christmas ornaments.
Games and activities for children will include bulb planting with a master gardener, leaf art, archaeology activities with the Florida Public Archaeology Network, and making pinecone bird feeders.
Confederate sharpshooter Jack Farrell loses an encounter with an artillery shell during a battle in Maryland. He returns home to recover from his wounds and get on with his life. Instead, he faces conflict with his Unionist father and Yankee raiders.
"Mrs. Kate" Carpenter has devoted her life to motivating children with her original folk songs and stories. A high-energy singer-songwriter, she performs over 150 shows yearly, delighting and inspiring folks of all ages. A seasoned veteran of the performing circuit, she has brought her "Motivate with Mrs. Kate" show to over 300 schools and libraries worldwide, and the trail of smiling faces keeps growing!
Mrs. Kate has recorded 8 CDs and a children's music video of her original songs. She has been featured on countless television and radio shows, including Radio Disney. Her unique artistry has been recognized by the Florida Department of Cultural Affairs Touring Roster, and she also works with special needs audiences in VSA Artist Residencies.
"Mrs. Kate" has been married to Rev. Tim Carpenter for over 34 years. They have two married children and one grandchild. "My mission is to reach as many children as I can with my positive, character-building message. It is my passion to inspire them to reach their full potential as kind, hard-working citizens who care about the environment. I seek to instill in every child their worth as a human being through the love communicated in my songs."
Lydia Hawke is the pen name of Lydia Filzen. She writes for Civil War News, Clay Today Newspaper, and various dog publications. She is an active participant with dog shows and Civil War reenactments. She is also a member of various writing organizations, including First Coast Romance Writers, plus Orange Park Amateur Radio Society, Orange Park Community Theater and United Daughters of the Confederacy. Two of her published Civil War novels, Firetrail and Perfect Disguise, have been adapted into a feature length movie. Hawke will read from her newest novel, Raiders on the St. Johns.
In "Raiders on the St. Johns", Northeast Florida seethed with hostilities during the War Between the States, pitting father against son and neighbor against neighbor. The territory between the coast and the St. Johns River was a disputed land, unsafe for Unionists and Secessionists alike.
Martina Sanchez, a young Minorcan woman, struggles to hold onto her St. Augustine home despite threats of banishment by the Union occupiers. She must keep peace with her enemies for the sake of survival.
Facebook Comments