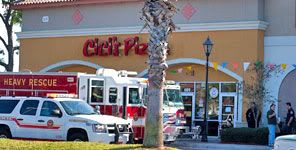 Historic City News freelance photographer Christopher Kimball was on the scene of a reported commercial structure fire at CiCi's Pizza — located in the Cobblestone Plaza on SR312.
At approximately 1:30 p.m. today, arriving units found smoke in the ceiling of the restaurant. It was determined that the smoke was the result of a burned belt on the HVAC unit on the roof of the building.
St. Johns Fire Rescue personnel used smoke ejectors to remove the smoke and released the building to CiCi's management in about 20 minutes.
Jeremy Robshaw told Historic City News "the belt burned one air conditioner unit and the smoke drifted into the vents — finally making its way into the store."
Photo credit: © 2009 Historic City News freelance photographer Christopher Kimball
Facebook Comments