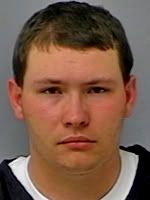 According to a report from Investigator George S. Gazdick, with the Special Victims Unit of the St. Johns County Sheriff's Office, Historic City News has learned that a child under the age of 12 years-old has been sexually assaulted and her 18 year-old attacker is in custody.
Bradley Wes Calloway, who resided at 4365 Helena Street in Hastings, has been arrested and charged with capital sexual battery following an incident that was witnessed late Monday afternoon.
A person 18 years of age or older who commits sexual battery upon, or in an attempt to commit sexual battery injures the sexual organs of, a person less than 12 years of age commits a capital felony.
Calloway is described as approximately 5'5″ tall and weighs approximately 205 lbs.
Sheriff's Public Information Officer, Sgt. Chuck Mulligan, told us that, because of the age of the child victim, very few details pertaining to this crime can be released.
Minimal details taken from Gazdick's report reveal that the victim and an unnamed witness have accused Calloway of picking the victim up, physically throwing her on a bed, removing her shirt, pants and underwear, and then proceeding to have intercourse with her.
According to a medical evaluation of the girl conducted by Dr. Dial with the Child Protection team, he was able to observe two bruises consistent with the victim and witness's allegations.
Bond in this case has been set at $50,000 — 18 year-old Calloway remains in custody.
Facebook Comments