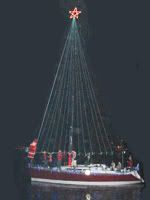 Communications Director Jay Humphreys reported to Historic City News that the historic waters of Matanzas Bay will sparkle in the glow of a holiday regatta of boats decked out in their seasonal finery.
Hosted by the St. Augustine Yacht Club, the 29th annual event will feature a nighttime parade of sailboats, trawlers, fishing boats and recreational boats aglitter with brilliant lighted displays ranging from patriotic to whimsical. Boat owners will try to out-dazzle the competition in a spirited contest featuring prizes in a variety of categories featuring boats from 15 to 85 feet in length.
The Regatta of Lights gets underway at 6:00 p.m. on Saturday, December 12th, as the boats enter Matanzas Bay, pass the Castillo de San Marcos and sail single file for the Bridge of Lions.
The regatta will then circle the bay to allow spectators and regatta judges to appreciate the illuminated ingenuity of each contestant.
The Holiday Regatta of Lights is supported in part by a grant from the St. Johns County Tourist Development Council.
For more information, including details on how to enter a boat in the regatta, call 904.824.9725
Facebook Comments