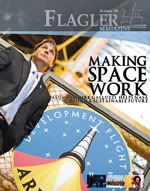 Priscilla Proctor, Coordinator of College and Public Relations, reported to Historic City news that Flagler College Magazine has won a platinum award in the 2009 "MarCom Awards" magazine in the educational institution category.
Others recognized as platinum award winners in this category included Carnegie Mellon University, John Hopkins University, Texas A&M University-Kingsville, University of Kansas, University of Pittsburgh, and nine others.
"This was very exciting to be recognized on a national level like this, especially considering how large and established many of the other winning institutions were," said Flagler Magazine Editor Brian Thompson. "We really believe we're putting out a special publication, and this just helps to affirm that."
The MarCom Awards is an international competition for marketing and communication professionals involved in the concept, writing and design of marketing and communication programs and print, visual and audio materials.
Entries come from corporate marketing and communication departments, advertising agencies, PR firms, design shops, production companies and freelancers.
The competition is administered and judged by the Association of Marketing and Communication Professionals. There were approximately 5,000 entries in the various categories for the competition. Winners were selected from over 200 categories in seven forms of media and communication efforts- marketing, publications, marketing/promotion, public service/pro bono, creativity and electronic/interactive.
Platinum Awards — the top award in the competition — are presented to entries judged to be among the most outstanding entries in the competition. Platinum winners are recognized for their excellence in terms of quality, creativity, and resourcefulness.
Flagler College Magazine is primarily an alumni magazine for the college's 12,000 alumni and has a circulation of almost 19,000. In the past couple of years the magazine has also won an Image Award from the Jacksonville chapter of the Florida Public Relations Association and a regional Special Merit Award from the Council for Advancement and Support of Education.
Facebook Comments