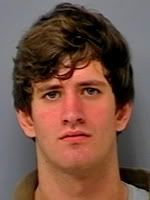 St. Augustine Police Officer Michael Linsky observed a car turning onto SR 16 from Ponce de Leon Boulevard last night that fit the description of a vehicle used in a reported armed robbery.
A passerby reported that he saw two white men in a tan Toyota push another man from their car at gun point.
Linsky conducted a traffic stop of the vehicle and made contact with the driver, Jacob Sacks (DOB 12/15/1989) and his passenger Christopher Rich (DOB 12/22/1989).
As officers were making contact with the subjects they saw a substance they knew to be marijuana in plain view on the rear floor board.
Rich told the officers that there was more marijuana in the hidden compartment of the center console. Police recovered a large plastic bag containing 130 grams of marijuana.
Both Sacks and Rich advised they picked up a drug dealer named "Marco" to buy some marijuana. When "Marco" got into their vehicle, Sacks pulled out the gun, pointed at him, took the marijuana, and pushed him out of the car. Sacks handed Rich the gun and told him to place it under the seat, according to the police report.
Police recovered a loaded 45 caliber hand gun from under the front passenger seat. Police went back to the scene but were unable to locate "Marco".
Sacks was taken into custody for possession of over 20 grams of marijuana and Rich was released.
The gun and the marijuana were both seized and the vehicle was towed.
Facebook Comments