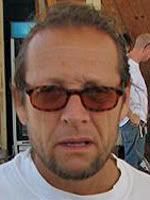 Flagler College reported to Historic City News that their fall Community Lecture Series "Rock 'n' Roll Landscapes," will conclude with Terry Nails — when he presents "Hard Rock and Heavy Metal: Ozzy and Other Delightful Madmen".
Nails will talk on Tuesday, December 15th, about his eclectic experiences in the music industry; which range from living with the Grateful Dead to playing bass with the Pointer Sisters and more.
Nails grew up in Las Vegas, where his father worked as a jazz musician and vocalist for The Four Freshmen. The Four Freshmen influenced many bands such as The Beach Boys and the Pointer Sisters.
Nails began his musical career at an early age when he learned to play both the piano and drums. At the age of 9, he began practicing with a DanElectro guitar and then progressed to a bass guitar.
Nails' decision to play bass professionally was influenced by James Gurley from Big Brother and the Holding Company. Nails had moved to San Francisco, and it was there that he began playing music with his neighbor James Gurley and guitarist Sam Andrews at Gurley's home. Gurley convinced Nails that guitar players were a dime a dozen whereas bass players were not.
Eventually, Nails left San Francisco to play with the band Country Joe and the Fish as a road crew member, though not for long. He ended up working for Chet Holmes at the Avalon Ballroom as well as the Family Dog on the Great Highway.
He soon met up with the Grateful Dead and lived with them on a ranch for two years. In addition, he worked as a drug counselor at the Haight Ashbury Free Clinic.
Soon after, Nails started playing in a hard rock band called Killerwatt.
It was in the mid 70's that Nails began to gain steady employment as a musician, later playing bass with such groups as the Pointer Sisters, Eddie Money, Tommy Tutone and Steve Jones of the Sex Pistols.
Nails decided to relocate to Los Angeles, where he and Steve Jones began creating music with Nikki Sixx, Axl Rose, Lemmy of Motorhead and members of The Cult.
In the late '90s, Nails was invited to play with Ozzy Osbourne on the "No More Tears" album.
Nails now lives in St. Augustine and continues to create music. He has been a radio volunteer for WFCF 88.5 FM since 2004.
Tickets are $5 per person. The lecture begins at 10 a.m. in the Flagler Room at Flagler College, 74 King St. Reservations are suggested, but not required. Space is limited. The lecture will last approximately one hour and will be followed by a coffee and Danish reception.
Call (904) 819-6282 for reservations or more information, and join us in the spring for another exciting series of lectures from local speakers with unique insights.
Facebook Comments