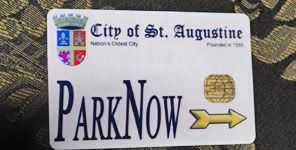 Financial Services Group Manager Meredith Breidenstein told Historic City News that if you planned to take advantage of the city's holiday gift ParkNow card, you're too late.
The City of St. Augustine offered a ParkNow card activated with a $5.00 parking usage credit free to the first 500 customers who paid their utility bill in person during December.
Breidenstein said, "They were lined up the first of December, and all 500 were gone within three days."
The ParkNow card is used by residents and others who frequently travel to the city and allows the card holder to enjoy parking meter, terminal, and garage rates for only 50 cents an hour instead of the regularly posted rates.
In the city's continuing effort to offset the image of a "parking un-friendly" town, on-street parking limits have been increased from two to three hours. Off-street parking lots that are managed by the city have a four-hour maximum limit.
Photo credit: © 2009 Historic City News photographer Kerry McGuire
Facebook Comments