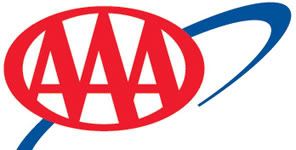 The American Automobile Association (AAA) announced to Historic City News today that they have selected St. Augustine as one of the twelve best locations in the United States and Canada to experience holiday cheer.
The only Florida destination on the prestigious list, St. Augustine was selected for its annual Nights of Lights celebration.
The Top 12 destinations were selected on the basis of recommendations from the organization's property inspectors. Each year, these inspectors rate more than 58,000 lodgings and restaurants in the U.S., Canada, Mexico and the Caribbean. The results are distributed to AAA's 51 million members in North America. AAA is the largest membership travel organization in the world.
AAA's announcement of its selections to the list of Top 12 places to "enjoy holiday cheer" said that during St. Augustine's two-month long Nights of Lights celebration, "millions of white lights glow along the ancient streets and historic buildings of the oldest continually occupied European settlement in the continental United States. This year's Sixteenth Annual Nights of Lights traces its origins to the Spanish tradition of displaying a lighted white candle during the Christmas holidays."
The perception of economic recovery is delivering a rebound in holiday travel this year as 87.7 million Americans are projected to travel during the Christmas and New Year's Holiday that officially begins next week (Dec. 23 to Jan. 3).
"The 87.7 million who are planning to travel represent 28 percent of the total U.S. population and the overall increase over last year is certainly a positive sign for the economy," said Kevin Bakewell, Senior Vice President, AAA Auto Club South.
"Despite the difficult economy, the South Atlantic region is expected to experience a subdued, but still heavy travel volume for the year-end holidays," Bakewell said. "A five percent decline is expected from last year's unexpectedly strong year-end holiday travel, but the volume of travel will remain above, or comparable to, the levels experienced prior to the economic crisis."
Continuing through January 31, 2010, St. Augustine's Nights of Lights provides a fantastic backdrop for more than 50 festivals, special tours and events throughout St. Augustine, Ponte Vedra & The Beaches.
Facebook Comments