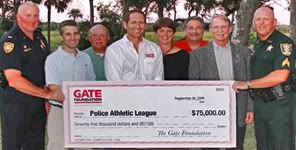 The St. Johns County Police Athletic League reported to Historic City News that they recently received a donation in the amount of $18,000 from The Gate Foundation in support of their youth programs.
The check was presented following The Annual Gate Foundation Golf Tournament, where St. Johns and Jacksonville Police Athletic League Programs were selected as recipients of the charitable donation. A total of $75,000 was raised and divided among the two organizations to further enhance the programs outreach to the youth in both communities.
The Police Athletic League is dedicated to preventing juvenile delinquency by partnering law enforcement and the youth of our community through athletic endeavors and mentoring possibilities. The Sheriff's Office's Police Athletic League coordinator, Sergeant Robert Gober stated, "The Gate Foundation has provided a great deal of support to our annual efforts and we thank them wholeheartedly for their support".
"With efforts such as this from our corporate partners, so much more can be achieved to reduce juvenile crime and foster a positive relationship with the youth in our community, who may otherwise be at risk" stated Sheriff David Shoar. "We sincerely appreciate their consideration of St Johns County's PAL to be a recipient of their generous donation" he continued.
Photo credit: © 2009 Historic City News contributed photograph
From L to R: Lt. Rob Schoonover (JSO PAL), Drew Frick (Gate Foundation Board Member), David Dill (Gate), Hill Peyton (Gate), Karen Brady (Gate), Dale Haney (Gate Foundation Board Member), Sheriff John Rutherford (JSO), Sergeant Robert Gober (SJC PAL).
Facebook Comments