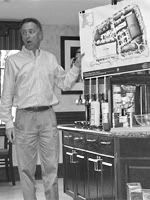 Historic City News has learned that Wednesday afternoon, the North Coastal Corridor Design Review Board will meet to review an initial plan for a new grocery store site from Bob Bentz and Joe Lelonek of Land Design South.
The proposal was presented last month to the Vilano Beach Main Street Town Center Planning Group.
The development group from West Palm Beach is currently under contract to purchase 3.5 acres of the original project. Before the property can be acquired for development, the plan must receive permitting or approval from the Design Review Board, County Commission, the community and must meet other grocery store requirements.
Twelve years ago, the Vilano Beach community began a formal vision for where they live. This plan was accepted by the County Commission in January 1999, and the North Coastal Corridor Design Review Board for special Overlay District Zoning was created.
A Community Redevelopment Agency Area was created to provide tax increment financing for the infrastructure of the new town center. The vision for a Vilano Beach Main Street was accepted as both a Waterfronts Florida and a Florida Main Street community. This citizen-government partnership receives technical planning and implementation assistance from the Florida Departments of State and Community Affairs.
At the very top of the Vision Implementation List was a desire and need for a sustainable Town Center which would provide nearby goods and services in a pedestrian friendly setting; at the same time celebrating the natural environment.
At the top of the Town Center list was a full service grocery store that would serve not only residents and visitors but be available for those who would come by boat on the Intracoastal Waterway.
Residents were disappointed when the first plan for a grocery store mixed use site fell away due to an almost immediate downturn in financial economic circumstances for the real estate investment market.
The new development group is familiar with the ideals of the Florida Main Street program. They are in process of due diligence before purchase of the property can be made and before a grocery store lease can be signed.
After hearing the Land Design South presentation, North Shores News editor Sacha Martin said, "We are pleased with their high caliber of experience and their desire to fast track our development."
"We are also fortunate," Martin said, "that this group has hired Taylor Land Planning Services to coordinate locally."
A former County Commissioner, Karen Taylor, has provided her land planning and design expertise to the citizen group from the beginning of the visioning process.
Current plans propose a 29,000 square foot grocery store and approximately 14,000 square feet of additional retail space. The buildings will appear as two story structures. There are two phases to the site.
The first phase is commercial retail only, for which approval is being sought now. A second phase will consider a future 26 unit residential use.
This will be the first Town Center development project using Overlay District zoning for non-zoning variances. There are no additional variances for height.
The proposed time line:
Wed * December 16 * 3:00 p.m.
North Coastal Corridor Design Review Board
Review at the North Shores Community Center, 120 Meadow Avenue, when non-zoning variances will be presented and recommendations received. If an additional DRB meeting is needed, it will be on January 13 at South Ponte Vedra Civic Association Center. The meeting is open to the public. This meeting will also be reviewing the Bluebird of Happiness as public art in the town center.
Tues * January 19
St. Johns County Board of Commissioners meeting
Request made for approval of non-zoning variances from the board.
Martin said, "The January 19th commission meeting is when we need members of the community to come show their support."
Questions and comments for the developer group may be forwarded to Karen Taylor at Taylor Land Planning, (904) 826-0600. Other grocery store anchored projects by this group may be seen at www.AtlanticLandRealty.com.
Photo credit: © 2009 Historic City News contributed photograph by Sacha Martin
Facebook Comments