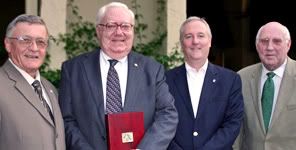 Historic City News received this contributed photo from Kenya Kelley identifying from left: SJRCC Board Vice Chairman Larry Lancaster, Robert McLendon, SJRCC President Joe Pickens and Board Chairman Bunky Roberts attended the ceremony held in Orlando.
Former St. Johns River Community College President Robert L. McLendon, Jr. was recently honored during the 60th Annual Florida Association of Community Colleges Convention in Orlando.
McLendon was presented with the Dr. James L. Wattenbarger Award by the Florida Council of Community College Presidents for outstanding service to the community college system.
The prestigious award is given annually in honor of Wattenbarger, who is considered to be the father of the community college system.
McLendon, who served as SJRCC's president for 36 years, attended the ceremony along with family, College administration and Board members Larry Lancaster and Bunky Roberts. McLendon presided over three campuses in Putnam, St. Johns and Clay counties and retired as the most senior community college president in 2008.
According to the FACC Web site, Wattenbarger played a vital role in the development of the community college system and its separation from the K-12 program. In 1957, Wattenbarger presented the Legislature with a master plan for Florida's community/junior colleges, which resulted in the formation of six new community college districts – one of the colleges was SJRCC.
Also accepting a Wattenbarger Award was Dr. Carl Kuttler, former president of St. Petersburg College.
Contributed photo
Facebook Comments