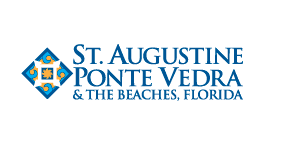 Historic City News was notified of a weekend jam-packed with holiday entertainment by St. Augustine Visitors and Convention Bureau Communications Director Jay Humphreys.
Friday: December 4
FIRST FRIDAY ART WALK
Enjoy the latest exhibits, music, entertainment and refreshments at over 20 participating galleries. St. Augustine Sightseeing Trains and Old Town Trolleys offer attendees a complimentary shuttle service to most of the galleries. Shuttles run on a continuous loop every 30 minutes. Mullett Beach Gallery will feature music by John Alison, and tapas and wine from the Tasting Room. At 6 p.m., Don Thompson Chorale's Christmas Concert will be performed at the Cathedral Basilica. Admission is free. Tours begin at Rembrandtz American Craft Gallery, 131 King Street. Galleries are open from 5 to 9 p.m. For more information, call 904.829.0065 or visit Art Galleries of St. Augustine.
An Evening of British Isle Music
Go to the Taberna del Gallo in St. Augustine's Spanish Quarter Museum on St. George Street and experience what night-time entertainment was like when the British occupied the city (1763-1784). Entertainment will be provided from 8 to 9:30 p.m. with a free concert featuring Father, Son & Friends performing traditional Scottish, Irish and, American folk music. Admission is free to all. Bring a blanket or a lawn chair. .Refreshments and libations are available. For more information, call 904.819.2629 or go to British Night Watch.
Friday & Saturday: December 4-5
VEDDY THEATRE GROUP: A TIME FOR EVERYTHING
Experience this heart-warming holiday presentation performed each Friday and Saturday evening through January 2 at the St. Augustine Amphitheatre's Winter Wonderland. Produced by the Veddy Theatre Group and written by Kiki Tovey, A Time for Everything is tailor made for the holiday season featuring the lovely Princess Vera and a quest for answers that leads to a wise hermit deep in the forest. Show times are 6:30, 7:30 and 8:30 p.m. Tickets are $5 (cash only) and may be purchased at the ticket booths at the Veddy Theatre at the Amphitheatre. For more information and online ticket purchases, go to Veddy Theatre Group.
CLASSIC THEATRE PERFORMANCE: A CHILD'S CHRISTMAS IN WALES
Enjoy this beautiful holiday story by Dylan Thomas. This lyrical tale is a recollection of the sounds and smells of a long-ago Christmas in a seaside town in coastal Wales. The performances take place at 7:30 p.m. in the Koger-Gamache Studio Stage at Limelight Theatre, 11 Old Mission Avenue, St. Augustine. Tickets are $20. For reservations and/or information, call 904.829.5807 or email jtrahner@gmail.com.
Saturday: December 5
55TH ANNUAL ST. AUGUSTINE CHRISTMAS PARADE
The 55th Annual Christmas Parade has grown to be one of the largest parades in north Florida and includes floats, marching bands cars, horses, and the arrival of Santa. The parade will start promptly at 10 a.m. by the Mission of Nombre de Dios; continue through the downtown streets of historic St. Augustine and end behind the Visitors Center on Castillo Dr. For more information, call 904.824.4997.
35th ANNUAL BRITISH ENCAMPMENT AND GRANDE ILLUMINATION
Experience what St. Augustine was like during the British occupation of the old city from 1763 to 1784. An authentic 18th century British encampment, located at St. Augustine's Colonial Spanish Quarter on St. George Street, will be open from 9 a.m. to dusk. Visitors to the encampment can enjoy Fife and Drum Corps demonstrations and other period music and dancing, meet authentic British soldier re-enactors, and learn about 18th century fashion. At 2 p.m., the Trooping of the Colors, a drill demonstration, will take place at the Castillo de San Marcos. And at 4 p.m., an 18th Century Afternoon Dance will be open to the public at the Colonial St. Augustine Foundation Garden on St. George Street. The day's events culminate at 8 p.m. with the Grande Illumination and British Night Watch Parade beginning at Government House on the Plaza de la Constitucion. This ceremony is an impressive pageant of color and light that includes a procession of lighted candles and torches from Government House, around the Old City and back to the Plaza to hear the British Governor's holiday proclamation. Soldiers fire their muskets in a Volley of Joy to salute the season! For the grand finale residents and visitors sing Christmas carols in the Plaza. For a complete schedule of activities, visit British Night Watch or call 904.829.5318.
SURF ILLUMINATION
Light up your evening when Surf Illumination complements the seasonal lighting of A1A Beach Boulevard in St. Augustine Beach. From 4 – 6 p.m., Santa, musical performers and traditional carolers make it fun for all creating a winter wonderland at St. Augustine Beach Pier Park. The event includes the ceremonial lighting of the seasonal tree by Mayor Frank Charles at approximately 5:30 p.m. Food and beverages are offered by local restaurants and many local arts and crafts vendors provide convenient shopping for the holiday season. For more information, call the St. Augustine Beach Civic Association at 904.347.8007.
FORT MOSE GUIDED TOUR
Come learn about some of America's most important cultural history in a fascinating setting on a ranger-led guided tour of Fort Mose. The tour begins with a short film on the history of Fort Mose and a tour the exhibits. Then, experience the history of Fort Mose, learn about the archaeology of the site, see remnants of daily life in Colonial Spanish Florida, and stroll along the boardwalk though a pristine salt water marsh. The tour begins at 11 a.m. and ends at noon. The guided tour takes place every Saturday through December 26 and is free with park admission — $4 per vehicle (up to 8 passengers) and $2 for pedestrians and bicyclists. For more information call 904.823.2232.
HOLIDAY TEA PARTY WITH MRS. CLAUS
Mrs. Claus welcomes boys and girls, 5-8 years old, to join her for a Christmas wish list session, storytelling, and a souvenir photograph. This is a tea party so come dressed in hats, jewels and suits, borrowed from a grown-up. The tea party takes place at 10 a.m. and 1:30 p.m. at Washington Oaks Gardens State Park in Palm Coast. Tickets are $20 per child. For reservations, call 386.446.6783.
HISTORIC WEAPONS FIRING DEMONSTRATION
Take the National Park Service's ferry to Rattlesnake Island and experience daily military life at Fort Matanzas – the 18th century Spanish fort that guarded the southern approach to St. Augustine. From 10:30 a.m. until 3:30 p.m., authentically clad re-enactors will demonstrate Spanish muskets and cannons at the fort. Admission is free. Fort Matanzas National Monument is located on A1A at the south end of Anastasia Island approximately 15 miles south of St. Augustine. For more information, call 904.471.0116.
Saturday & Sunday: December 5-6
4th ANNUAL HANDA CUP TOURNAMENT
Enjoy an international match-play competition at the final event of the 2009 The LPGA Legends Tour on World Golf Village's Slammer and Squire Course. The Handa Cup tournament features some of the top players from the LPGA Legends Tour. The Slammer and Squire is located at the World Golf Village, off I-95 at exit 323 in St. Augustine. Single day pass tickets are $10. For more information about the Handa Cup Tournament, visit The Legends Tour.
Sunday: December 6
41ST ANNUAL CHRISTMAS TOUR OF HOMES
Step back in time and experience the charm, warmth and grandeur of the holiday season on the St. Augustine Garden Club "Christmas Remembered" holiday tour. This highly anticipated annual Holiday event showcases seven private homes in St. Augustine's Abbott Tract District. Decorations and floral arrangements made of natural materials are designed and handcrafted by club members and will be on display in each home. The continuous loop tour aboard Ripley's St. Augustine Sightseeing Trains runs from noon to 5 p.m., departing from the Historic Downtown Parking Facility located behind the Visitors Information Center on Castillo Drive. Tickets are $15 in advance and $20 on the day of the tour and include refreshments and admission to the Garden Club Boutique located in the Big Tent at Ripley's Believe It or Not! Museum, 19 San Marco Avenue. Shop in the Boutique for home-made treats and natural hand-crafted items created by club members. For more information and ticket sales locations, call 904.230.2108, 904.826.0024, or visit Garden Club of St. Augustine.
HOLIDAY UNPLUGGED
Come to the Cultural Center at Ponte Vedra Beach and be thoroughly entertained! An all-star line up will perform a wonderful variety of music, including holiday-inspired tunes. Holiday Unplugged is free and open to the public thanks to the generous sponsorships of VIProductions, Keyboard Connections and Fazzini's Coffee and Tea. The Cultural Center is located at 50 Executive Way in Ponte Vedra Beach. For more information, call 904.280.0614.
NOTE: St. Johns County residents with a valid ID are always admitted free of charge to Government House Museum, the Lightner Museum, the Colonial Spanish Quarter Museum, the Fountain of Youth (special events excluded), the Ximenez-Fatio House, the Oldest Wooden Schoolhouse, the Spanish Military Hospital Museum and the Father Miguel O'Reilly Museum. The daily tours and wine tastings at the San Sebastian Winery are free to everyone. Also, admission is free to everyone at the Authentic Old Drug Store, Fort Matanzas National Monument, St. Photios Chapel, the Peña-Peck House and the Father Miguel O'Reilly Museum. (donations are welcomed).
Facebook Comments