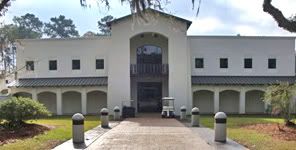 Guest columnist Derek Boyd Hankerson reported to Historic City News that he recently returned from Tallahassee where he made a presentation at the new visitor center at Mission San Luis on the topic of America's Underground Railroad.
Hankerson reports that the Mission is incredible. "All visitors will be delighted in its design, architecture, and accurate depiction of American history", Hankerson said.
Mission San Luis is the National Historic Landmark site of the western capital of Spanish Florida. From 1656 to 1704, Mission San Luis was home to 1500 Apalachee Indian and Spanish residents. Today, life in the early 1700s is re-created through costumed interpreters, reconstructed buildings, exhibits, archaeology, and special events and programs.
Historic City News readers are invited to attend the free grand opening on Sunday, December 13, 2009, from 3 to 5 p.m. Everyone is also invited to participate in the annual commemorative mass; honoring over 100 Spanish missions that existed in La Florida in the 16th and 17th centuries. Mass will be held in the re-created Franciscan church at 2 p.m. and will be officiated by Bishop John Ricard.
The day's activities will include:
A militia muster of The St. Augustine Spanish Garrison, a member unit of Florida Living History, Inc.

Special exhibit of Spanish colonial art and artifacts on loan from Calynne and Lou Hill

Native American and Spanish craft activities for children

Period music and drama

Sampling of wines, traditional paella, coffee, and desserts sponsored by Premier Beverage Company of Florida, Florida Coca-Cola Bottling Company, Juan Ten's Real Paella, Starbucks, and the University Center Club

An opportunity to tour the new museum gift shop, Mission Room and reception hall, classrooms, and theatre

Living history, including a Las Posadas procession at 12:30
The 24,000 square-foot Visitor Center's architecture evokes Spanish colonial traditions, but is designed to meet contemporary needs. Graceful colonnades and patios, soaring wooden-beamed ceilings, and natural floor and wall finishes combine to blend Mediterranean elegance with modern technology while maximizing function and energy sustainability.
The Art in State Building Program commissioned Erick Villanueva to carve ceremonial wooden doors depicting themes from the Mission for a grand entrance to the new center.
According to Executive Director Bonnie McEwan, "Ever since construction began on May 3, 2008, we have been anticipating this day. The new and expanded exhibit hall, theatre, classrooms, and gift shop will enhance our visitors' experience for orientation, interpretation, and education. The 250-seat Mission Room banquet hall and other reception spaces provide entirely new resources to assist in our efforts to meet the community's needs. We look forward to welcoming you to San Luis on December 13 and throughout the coming years."
The new entrance is located at 2100 West Tennessee Street in Tallahassee, Florida. Mission San Luis is open Tuesday through Sunday from 10 a.m. to 4 p.m. Admission is free through December 2009; the site will begin charging admission on January 1, 2010: Adults, $5; Seniors, 65+ $3; Children ages 5-17, $2. Members, children under 5, and active duty military and their families are free.
Mission San Luis is managed by the Florida Department of State, Division of Historical Resources, Bureau of Archaeological Research. For more information, please call 850.245-6406 or visit www.missionsanluis.org.
Photo credit: © 2009 Historic City News photographer Derek Boyd Hankerson
Facebook Comments