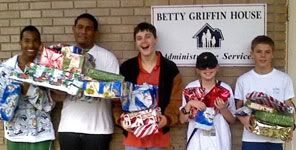 Betty Griffin House's staff members reported to Historic City News that they were pleasantly surprised as a van full of Florida School of the Deaf and Blind students arrived at their door with gifts in hand.
The students explained how they saved up their money and personally shopped for all the gifts. They wanted to make Christmas special for the children who are spending their holiday in the shelter this year.
"It brings tears to my eyes, thinking of the thoughtful children at Florida School of the Deaf and Blind saving their money up to help our children celebrate Christmas," says Joyce Mahr, Executive Director of Betty Griffin House.
Every year, Betty Griffin House matches generous donors with their families in need. This year, almost 60 families in shelter or outreach services were adopted out by the community.
As a private, nonprofit agency, Betty Griffin House provides emergency shelter to abused women, men, their minor children. Other support services available to shelter residents and non residents include a 24-hour crisis hotline, individual and group counseling, forensic and medical rape exams, and legal assistance. Confidential individual and group counseling are available in all parts of St. Johns County including, Hastings, Ponte Vedra Beach, St. Johns, St. Augustine and St. Augustine Beach. For more information or to make a donation, visit the Betty Griffin House's website at www.bettygriffinhouse.org
If you or someone you know is being abused, please call our hotline at (904) 824-1555.
Facebook Comments