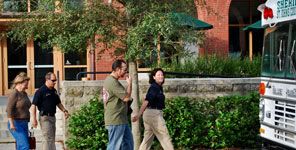 Historic City News has learned that city police and sheriff's deputies were involved in a cross-training exercise this morning with members of the public safety department of Flagler College.
According to SJSO spokesman, Sgt. Chuck Mulligan, the focus of the on-site training was to prepare the agencies in the event of a hostage or other crisis that might occur on the Flagler campus. Last month, a similar training was conducted at the Florida School for the Deaf and Blind.
Mulligan said, "We do these emergency training scenarios with our Crisis Negotiation Team every month." Mulligan explained that even though law enforcement may not have any reason to believe that a specific threat actually exists today, training is the key to preparedness when the unthinkable happens.
In today's "role play", a girl was taken hostage in the student center by a boyfriend suffering the effects of post-traumatic stress disorder. Flagler drama students volunteered to play the student roles.
Since more than one public safety agency will be involved in any actual crisis, if it occurs, one of the benefits to the participants in today's exercise is the ability to work under simulated emergency conditions with officers from other departments.
Practice makes perfect, even for events that we hope never present themselves.
Photo credit: © 2009 Historic City News staff photograph
Facebook Comments