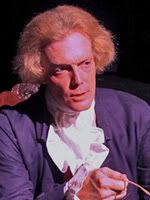 Okay, so he's American, but Thomas Jefferson has a lot to say about the British – and will Thursday evening as the 450th Commemoration Commission's First America series continues at Flagler College Auditorium.
Doors will open tonight at 6:00 p.m., with the program commencing at 7:00 p.m.
Colonial Williamsburg's Bill Barker, in Jefferson persona, will plead the patriot case before what would have been a hostile audience during St. Augustine's British occupation (1763-1784).
Joining him will be Jesse Fish (our own John Stavely), an enterprising agent who shuffled properties between the Spanish and British.
Surrounding him will be a British Night Watch living history contingent, which might be less than cordial toward this treasonous visitor.
Facebook Comments