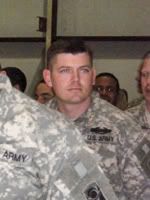 St. Johns County local news desk for Historic City News bids farewell and safe journey to St. Johns County Commissioner Mark Miner as he departs for duty to his new assignment in the Middle East.
Miner is an Infantry Non-Commissioned Officer and has previously served one tour of duty in Iraq. He is part of the 2nd Battalion, 124th Infantry Regiment, being deployed in support of Operation Iraqi Freedom.
Miner is on military leave from his elected position as District 3 County Commissioner while he serves during this one-year deployment.
Units of the 124th Infantry, Florida Army National Guard, have been trained hard, living in tents amid the mud and palmetto flatlands, brushing up skills in convoy protection, firing various weapons and other soldier-craft, as well as learning one of the most dangerous of combat skills — clearing urban areas of the enemy.
"These Guardsmen were running combat missions and patrols as well as learning to deal with the civilian populations in Afghanistan, Iraq or any other country where they might be deployed," said one of the Army National Guard training officers.
Brig. Gen. John Perryman said. "This is exactly the kind of mission the command is organized for and our training has focused on. The significant combat experience found in the Non-Commissioned Officer and officer corps of the command, combined with the battle focused Warrior skills of our Soldiers is a solid foundation for the readiness needed for this deployment and ultimately, mission success."
Facebook Comments