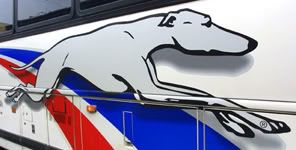 In reviewing the agenda for Monday night's City Commission meeting, reporters at the local St. Augustine news desk of Historic City News noted a discussion item of interest to those who have been following the fate of bus travel to and from St. Augustine, Florida.
On Thursday, December 11, 2003, Mark Stanton, whose family, since 1966, owned the Malaga Street property that was the site of the former Greyhound bus depot, demolished the building to make room for Holly's Diner — now known as Georgie's Diner.
The Greyhound station was re-located at that time to its present home at 1711 Dobbs Road, off State Road 207, however, Greyhound Lines has announced that they will drop passenger bus service to St. Augustine starting tomorrow, Saturday, January 9, 2010.
According to published reports, a company spokesperson said the city's bus service will return, however, no details have been released by Greyhound.
As part of the regular meeting, the St. Augustine City Commission intends to discuss a proposed Greyhound Bus Stop at the Visitor Information Center, although, it is not known if other potential locations are being considered.
If you're planning to go, the city commission meeting is scheduled for Monday, January 11, 2010 at 5:00 p.m. in the Alcazar Room at City Hall and will be broadcast live on GTV – Comcast cable channel 3 in St. Augustine.
Photo credit: © 2009 Historic City News photographer Kerry McGuire
Facebook Comments