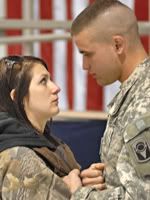 On Wednesday, January 6, 2010, thousands of friends, family members and dignitaries gathered at the Orlando International Airport with a reporter from the local St. Augustine and St. Johns County news desk of Historic City News, to say farewell to the men and women of 2nd Battalion, 124th Infantry Regiment.
One of the members of the unit is Pfc. Paul Mancuso; seen here saying a final goodbye to his girlfriend, Valerie Chant, after the unit deployment ceremony at the Orlando International Airport.
All of the soldiers of 2nd Battalion, 124th Infantry Regiment, which also includes St. Johns County District 3 Commissioner Mark Partridge Miner, bowed their heads for a benediction during the unit's departure ceremony. More than 600 Soldiers from the "Seminole Battalion" left from Florida to begin this deployment in support of Operation Iraqi Freedom.
Mancuso and nearly 2,500 other Florida National Guard Soldiers from the 53rd Infantry Brigade Combat Team shipped out Wednesday preparing for a year-long deployment to Iraq and Kuwait.
Adjutant General of Florida, Maj. Gen. Douglas Burnett joined Florida Governor Charlie Crist in addressing the soldiers of 2nd Battalion.
Burnett and Crist presented the Florida state flag to Commander of the 2nd Battalion, 124th Infantry Regiment, Lt. Col. Rafael Ribas during the deployment ceremony while Sgt. Maj. Robert Hosford explained the tradition of presenting a Florida state flag to each deploying Florida National Guard unit.
Frank DeToma, who is the Senior Constituent Advocate for the Office of Senator Bill Nelson, presented a letter of support from the senator to Lt. Col. Ribas. The ceremonies were also attended by U.S. Representative Suzanne Kosmas.
Among other local, civilian soldiers "called-up" in what the Florida National Guard says is the largest single-unit deployment of Florida National Guard since World War II, Sgt. Darrell Coker was able to spend a few moments playing with his 10-month-old son Carl before being deployed.
Spcs. Perry O'Keefe and Brian Williams were also part of the contingent of Florida soldiers of the Army National Guard's 2nd Battalion that were trying to stay warm — as the temperature dipped down into the 30's at the airport.
Command Sgt. Maj. Gene Meisenheimer and his son, Pvt. Cory Meisenheimer, posed for a photo with Florida Gov. Charlie Crist and Lt. Gov. Jeff Kottcamp, as did many other departing soldiers and their families.
Civilian members of the Patriot Guard Riders motorcycle club braved the cold wind and low temperature to show their support for our guardsmen.
Photo credit: © 2010 Historic City News contributed photograph Tech. Sgt. Thomas Kielbasa
Facebook Comments