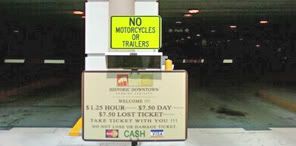 A narrowed entry and shortened exit gate will provide parking for motorcycles in the Visitor Center parking facility now that Chief Operations Officer John Regan won commission approval Monday.
In response to complaints from motorcycle riders who previously could not use the public parking facility, Regan championed a redesign of the southernmost of three entrances to the garage and the shortening of an exit gate for motorcycles.
Local resident Merrill Paul Roland, who is handicapped and rides his motorcycle instead of driving a car, has long complained about how he has been prohibited from access to the Historic Downtown Parking Facility at the Visitor Information Center.
Historic City News local St. Augustine news desk reported last June that Roland appeared before the commissioners — not only complaining about access to the facility but also the fact that a handicapped driver would be asked to pay to park.
Roland says that handicapped people are illegally charged to park in the city garage. "It's a violation of the American's with Disabilities Act to charge handicap vehicles to park" said Roland.
Roland asked, "Have you ever seen a parking meter at a designated handicap parking space?"
The city has made provisions for at least 30 spaces designated for handicap parking in the Historic Downtown Parking Facility at the Visitor Information Center.
Under the new plan, bikers would pay a flat $4 to park – $2 for ParkNow card holders, exiting around a shortened gate at the manned exit station. No word on whether motorcycle drivers with handicap credentials will be asked to pay.
"The biggest problem with motorcycle parking in garages, we found, was bikers getting hit in the head by gates," Regan said. He suggested our advertising should promote that we are a motorcycle-friendly city with the redesign.
Photo credit: © 2010 Historic City News photographer Kerry McGuire
Facebook Comments