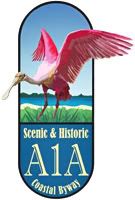 Project Manager Wendy Thomson is asking Historic City News local St. Augustine news readers and friends of A1A Scenic and Historic Coastal Byway to volunteer for a beach clean-up scheduled this Saturday, January 23rd at the Fort Matanzas National Monument in St. Johns County.
"Bottled water will be available", Thomson persuaded.
Volunteers should meet at the Fort Matanzas east parking lot and look for the directional signs. The clean-up will be from 9:00 a.m. until noon and participants should wear sunscreen, sunglasses, hats and appropriate clothing.
Volunteers will be provided with gloves, trash bags and equipment for trash pick-up.
"This is an opportunity to help set an example in the community by keeping our beaches clean; which enhances our scenic enjoyment and protects our wildlife," Thomson said.
The Friends coastal cleanup program is made possible through funding from the Florida Department of Environmental Protection's Coastal Management Program and the National Oceanic and Atmospheric Administration.
Facebook Comments