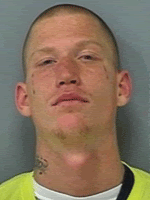 The St. Augustine local news desk learned that police responded to Sangrias, located at 35 Hypolita Street, after receiving a call that there was a man lying on the sidewalk, bleeding from his head, on Saturday, 01/16/2010 about 1:13 a.m.
Upon arrival, Officer Michael Linsky was advised by witnesses that the victim had been in a verbal argument with a white man who followed him out of the bar.
The victim was unconscious, bleeding heavily from the head, and both eyes were swollen shut. He was transported by air ambulance to Shands Hospital in Jacksonville.
Another witness stated that Scott Faulkenberg told him that he "had just beaten someone" and threw a hat on top of a building.
Police made contact with Faulkenberg at Bridge Street and ML King Street. When Officer Linksy spoke with Faulkenberg, he denied doing anything wrong and stated he was never at Sangrias.
The officer noticed blood on Faulkenberg's shoes. Faulkenberg said that it was not blood — but spaghetti sauce. A field test was done and substance tested positive for blood.
Another witness advised police that he was with Faulkenberg when Faulkenberg punched the victim and kicked him four times.
Faulkenberg was taken into custody and transported to county jail where he remains in lieu of $5,000.00 band.
Contact was made with the victim at Shands Hospital. The victim stated he did not remember what had happen during the altercation, but he did remember getting into a verbal argument with Faulkenberg.
The victim suffered from multiple fractures to the facial bones. His injuries are not life threatening.
Faulkenberg was charged with aggravated battery and tampering with evidence.