Planned road closure report this week from Northeast FDOT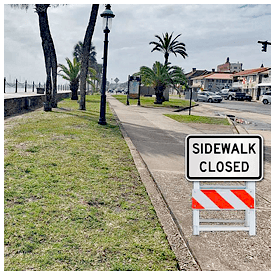 Florida Department of Transportation Community Outreach Specialist Allen Nelson has updated Historic City News with the weekly lane closure report containing information regarding ongoing construction projects and traffic impacts for the coming week. Our readers and subscribers will be updated every Friday by 5:00 p.m., with some unavoidable exceptions and state holidays.
The information contained in this report is taken from sources deemed reliable; the accuracy and completeness of which Historic City News does not control and cannot guarantee. The original records are on file with the Florida Department of Transportation Northeast Florida Region and should be consulted before taking any action.
---
SR-A1A North from Guana River Road to 2724 A1A North. Daytime lane closures Tuesday through Thursday from 9 a.m. to 3 p.m. for shoulder work.
SR-13. Daytime lane closures Wednesday from 9:30 a.m. to 4 p.m. over the Julington Creek for routine bridge inspection.
US-1 South. Daytime lane closures at 7662 US-1 South Monday and Tuesday from 9 a.m. to 3 p.m. for drainage pipe replacement.
US-1 from King Street to Rambla Street (436168-1) Nighttime lane closures Sunday through Thursday from 8:30 p.m. to 6:30 a.m. for concrete pavement replacement.
US-1 from SR-207 to Lewis Speedway (433843-1) Traffic is shifted to the east side of US-1. A temporary median closure is in place for northbound US-1 traffic at Spencer Street through late 2022.
---
As part of an emergency construction contract to replace the County Road 214 overpass beam at I-95 southbound, motorists can expect lane closures and detours in the area throughout the month of January.
On I-95 southbound at CR-214, daily single-lane closures are permitted from 8 p.m. to 5 a.m., and double-lane closures are permitted from 10 p.m. to 5 a.m. starting Jan. 13.
Motorists can also expect occasional overnight weekend detours of I-95 for demolition, beam, and deck placement. Detours will only be permitted between the hours of 11 p.m. and 5 a.m. Fridays and Saturdays, and the contractor is expected to detour I-95 at most four nights between Jan. 13 and Jan. 29. During these overnight closures, drivers will be detoured via SR 16 eastbound to US-1 southbound to SR 207 southbound to reconnect with I-95 southbound
On CR-214, one-lane, two-way traffic over I-95 will be maintained throughout construction. Nightly detours of CR-214 will be permitted between 9 p.m. and 6 a.m.
---
Superior Construction Company Southeast, LLC was awarded the $1.15 million contract to repair damage to the CR-214 overpass over southbound I-95, which occurred on December 7 when a dump truck's elevated bed struck the overpass. Completion of the work is expected in February 2023, weather and unforeseen circumstances permitting.