Ron and Casey DeSantis attend the governor's inauguration with children in tow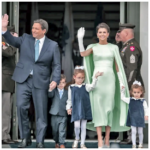 Yesterday Historic City News reporters watched as St Johns County local hero, Florida Governor Ron DeSantis, laid into the federal government and Democrat-run states during the inauguration speech at the historic Old Capitol Building in Tallahassee.
First Lady Casey DeSantis and their children attended the ceremonies with the governor to celebrate his November 2022 win for a second term in office. DeSantis won re-election in a landslide, defeating the Democratic Party nominee, former US Representative Charlie Crist, who previously served as governor of Florida from 2007 to 2011 as a Republican. Crist ran for governor in 2014 as well. He was seeking to become the first Democrat to be elected governor of Florida since 1994
"Florida is a citadel for freedom," DeSantis proclaimed. "We are an overall model for the country, where woke goes to die."
DeSantis is often floated as a potential 2024 GOP presidential contender. According to exit polls following his recent election, DeSantis won 65% of White voters, 13% of Black voters, and 58% of Latinos. Of Latino voters, DeSantis won 69% of Cubans and 56% of Puerto Ricans. DeSantis' large margin of victory was in part due to him flipping Democratic stronghold Miami-Dade County for the first time since 2002, and Palm Beach County for the first time since 1986, as well as winning Hillsborough, Osceola, Pinellas, and St. Lucie counties for the first time since 2006.
"Many Americans are pessimistic about the country's future. But Florida is proof positive that we the people are not destined for failure," DeSantis said encouragingly.  "To decline is a choice. Success is attainable, and freedom is worth fighting for."
The governor ridiculed what he called a "floundering federal establishment in Washington D.C.," highlighting the inflation rate, its response to COVID-19, and the migrant crisis at the southern border – all frequent criticisms of President Biden's tenure by Republicans nationwide.