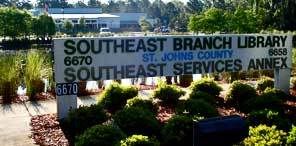 The new Southeast Annex, serving the citizens of southern St. Johns County, is complete and ready for operation.
Residents of southeast St. Johns County now will be able to register their automobiles, pay their taxes, secure drivers licenses, and conduct all the other activities normally handled at the Main Tax Collector's Office located on Lewis Speedway.
Additionally, the Sheriff's Office will have a sub station, the Clerk of the Court will have a presence, and the Supervisor of Elections will have a presence. The new County Services Southeast Annex is located behind the existing library branch on the same site.
Administrator's Bi-Weekly Message – March 21, 2008
County Website
Photo credit: Historic City Media news photographer Kerry McGuire